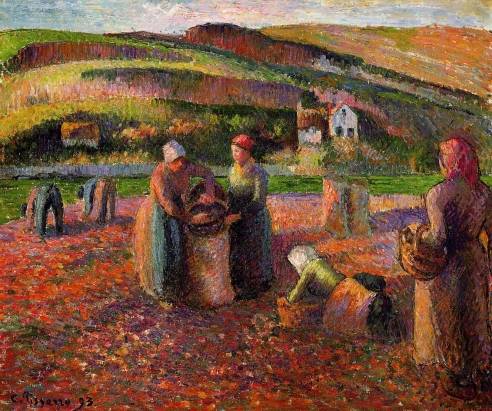 One of the strangest and most persuasive groups in the left is the massive artist contingent. Almost all artists are failures. However, many among this vast 99% of failures believes with all of his or her heart that they are geniuses whose work should be supported by the rest of us. Very seldom do the rest of us feel that this is the case. I've never bought a piece of art, and probably never will. I would rather look at an ant walking through a macaroni noodle, or look at a tree. Most of us feel that with most artists, their work on canvas or paper is a defacement of the price of the paper which was worth more before it was tampered with (it's hard to write a poem on a piece of paper that's already got something on it). And yet the million marchers for art believe that it is almost a moral imperative that they be paid for their creations, and their often childlike belief that they are important (often in the face of all opposition) leaves me in a state. And yet these folks can be fairly persuasive. They have an education (usually) and they can push around most people, and get used to doing this. Many of them want socialism because they believe that in a socialist system their art will get the attention it deserves. In actual praxis, this has almost never been the case. I have come to hate the notion that artists should be supported by farmers, and taxi drivers, and police officers, or the business community, as if they have the right to demand money from taxes paid by people with actual professions. Artists are basically people that have not planned their future (if they did they would not be artists), and now want the rest of us to bail them out. But there is something wonderful about a failed artist. Their egos are so huge that many of them feel the world owes them a living, because everything they do is entitled to compensation out of the public purse. The 1% who can make a living from art, or sport, or anything like play, are to be heralded. The vast 99%?
In the 1890s there was a utopian colony based on Proudhonian time banks in Port Angeles, Washington. This colony had a strange capitalism. If you spent an hour growing potatoes you could go into the time bank and get a poem someone worked on for an hour. And if you wrote a poem, you could get a sack of potatoes. Obviously, everyone was dragging in poems and songs, and soon the place went belly up.
Should the artist automatically be paid the same as all other workers, and should their work be considered the same as the growing of potatoes?
In some cases (Camille Pissarro's Potato Harvest above) you get an amazing artist whose worth is almost limitless. More generally you get a painter whose worth most people think is quite limited: even laughable. My own poems are often laughable. I probably write a hundred for every one that has promise. Then occasionally one or two will stick. I realize they are done, and generally, they go right into print. Some artists are like that with almost everything they make. If it says Picasso on it, it's generally thought to be excellent, and in some sense it is (Picasso was morally deficient, and this is also evident in everything he did, but one has to look close to discern this).
Should society pay everyone equally without regard to what they are making? Many artists believe yes! But art is by nature a very competitive enterprise in which almost everyone will fail. In all fields of endeavor those who are the best at it get paid better than the failures. Can you even be a mess at working at McDonald's, or working at Burger King, or sweeping up a building? Less likely, but obviously some are better at sweeping up than others. Should the ones who make a big mess get paid the same sum as those who do a neat job? Should it be legal to fire the ones who simply can't do the job right?
John Stuart Mill comments on the vast 99% in competitive fields: "In other words, society admits no right, either legal or moral, in the disappointed competitors, to immunity from this kind of suffering; and feels called on to interfere, only when means of success have been employed which it is contrary to the general interest to permit -- namely, fraud or treachery, and force" (p. 101, On Liberty).
"Trade is a social act" (p. 101), Mill writes. But who should choose what gets made and who should buy it? The arts are strange because if you are in the right place at the right time (the right gallery in the right city with the right critical backing at a time of high economic activity) you might be able to make a killing. Generally, however, you are in the middle of nowhere, and can't get the work to market, and if you could, no one would be interested. It's maybe easier to make it in sports. There are more sports. But the shelf life of a sports star is usually ten years or less (one tear in the rotator cuff and you are toast and your market value is nil if you are a pitcher or a quarterback or a badminton player). A very famous artist can work in their nineties (Picasso) and still attract interest. Most however never generate any interest, or some generate it after their death (Van Gogh).
Wages for art are weird and susceptible to strange variation, but usually they amount to zero. I have poems coming out in Potomac Review, Passager, Poetry East, and Christianity and Literature, and the grand sum I'm getting for those poems is eight copies (altogether) of the journals. Almost no one reads poetry. Very few seek it out. Many write it. I don't know anyone who has made a living out of it aside from teaching it. Some few sell 60,000 copies. I think Ginsberg sold that number of his Collected. Billy Collins wrote a book or two that were bestsellers.
Most poets work hard at poetry. Should they get paid as if they are working in a McDonald's? Or as if they are working in a hot real estate market? Or even more?
If so, who is going to lay out the loot?
Some argue that the labor theory of value is the only good one, and that if you put in a certain amount of labor, you should get paid. Manual laborers often insist on that. Should bad workmen receive the same salary as the good (based on a sentence by Mill on p. 93)? Should a poet who works really hard at it get a salary?
If you are merely investing paper in Wall St., ought you to make any kind of living at all from the risk of investing? From the day laborer's vantage point, it doesn't seem to be real work, just as working on mathematics may not seem like real work to someone who digs ditches for a living. What kind of effort went into the creation of the wealth of a speculator? Should they be able to risk all without having a net beneath them? From the vantage point of the artist, this is as much of a ripoff as their paintings, so why shouldn't the government also pay for artists who've risk their entire life on the hope of becoming famous?
If a person spends their time immersed in brothels or in drug use, should they get the same salary as someone who spends their time working 9-5 in a gas station? To the questions of equity and fairness should be added the question of equality.
On what should the value of a thing be placed? Should it be based on the time it took to create? On the labor that went into it? On its perceived quality? Or on whatever you can get someone to pay for it? Or something else?