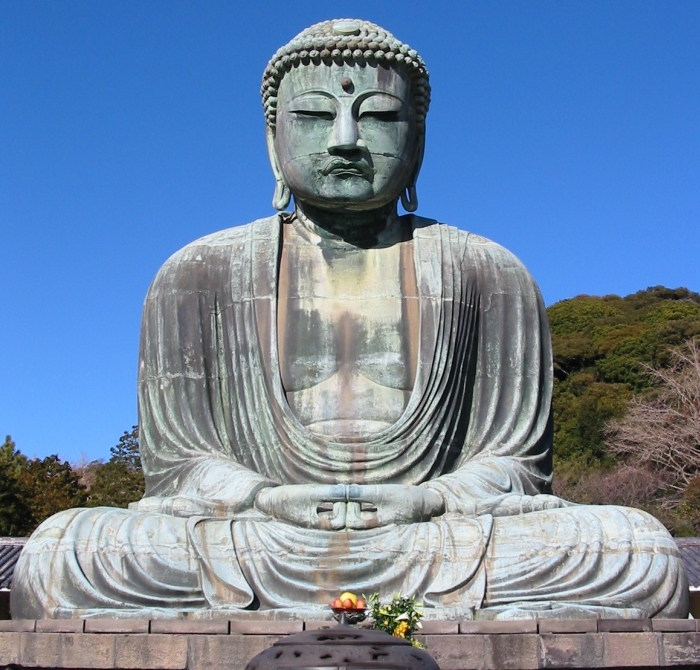 I don't like top-down authoritarian structures. I've written against Catholicism, against Marxism, and against Islam because of their top-down authoritarian structures.
However, possibly the worst of all with regard to the top-down structure is Buddhism. Buddhism is very attractive to the youth of today, who think it's going to offer them something called Enlightenment, whatever that is. It seems to mean not wanting anything, and becoming a vegetable, or a mineral. Buddhists actually consider rocks and stones to be citizens I think this is because they want to be about as inert as a rock. Perhaps rock music is Buddhist to some degree. People become animals, then vegetables, and then minerals, when they listen to it. But in Buddhist monasteries, they sit on pillows and say the same word over and over until their minds disappear into a state called Nirvana. From the outside at least, these people are difficult to discern from geological structures.
Looking around at the Buddhist countries none of them work. Myanmar is a socialist Buddhist amalgam. Calorie counts are very low, and there are no freedoms. Vietnam was Buddhist, and now look. Another socialist quagmire. Most of Southeast Asia is more or less the same. Thailand has no freedoms. Buddhists don't seem to care about freedoms. They don't really even care about freedom of inquiry. They don't invent anything, they don't have any enterprises unless you call sex tourism an enterprise. It's a sell-out, but not of one's mind, but of their wives and daughters, and it's poisoning the children and women of those countries with AIDS and other maladies. As many as a fourth of the prostitutes of Thailand have AIDS, according to one report. This may not be as bad as many countries in Africa where a fourth of the normal population has AIDS, but it's still bad, especially if you're a prostitute.
You never hear about anyone in Thailand who is mad about this. There are no criteria for anger within Buddhism. You are never supposed to be angry. You just stay calm, and focus on your own inner peace. Buddhism doesn't even have moral criteria. The ten commandments has no correlative in Buddhism. Everything just is. If someone chops your leg off, your job is to remain sanguine. If someone kills a child, try to see everything as transience, and stay in the groove. There are no jeremiads in Buddhism. Say om again and get on with nothingness.
Tibet itself was once a martial nation before Buddhism came, but it's become a bunch of marshmallows sitting around on pillows.
Buddhists have gurus, and the gurus give you something called a mantra, which is supposed to be your key to turning off your brain. Even the Dalai Lama has no brain. He was asked if he thought prostitution was ok, and he said, sure, as long as you pay the woman! It's all la-la land in Tibet, except for the fact that Tibet no longer exists.
At Naropa Institute, where I went in the late 1970s, they had a crazy Tibetan guru called Trungpa. He was mentally ill, but people thought of him as wise, because it was claimed that milk buckets had fallen from the sky when he was born. He had weight problems, to put it politely, and he liked to throw his authority around. I suppose he wasn't actually as bad as a Yakuza, but Tom Clark's book on what he did to the poets of that time makes you wonder. He forcibly stripped W.S. Merwin and Merwin's girlfriend. He had no remorse on the matter, but when the gurus do something to you, you are just supposed to go along with it. If you don't, you're some kind of jerk. Tom Clark's book is called The Great Naropa Poetry Wars. It's been out of print for decades, but is one of the great books on how Buddhism looks the other way away from any evil, or reframes it. Buddhists don't have any way to evaluate anything.
Therefore, Buddhists don't have a journalistic tradition. Even if they did have one, they wouldn't have any newspapers, because freedom of the press doesn't exist in any Buddhist countries. We used to have freedom of the press, at least, in the Protestant west, but now that Buddhism and Marxism have combined to wipe out our intellectual class and turn them into followers of the Pied Piper, I don't expect much from that sector any longer. Does journalism still exist somewhere in the world? If so, why hasn't anybody done a report on the evils of Buddhism, and how it turns its practitioners into mental marshmallows? Maybe when you are doing the research, you turn into such a marshmallow you can't finish the report.
I used to think that Buddhism was something good when I was about 12. But at Naropa when I actually went there to see for myself at 17, Americans seemed to think of the Buddhists as preternaturally wise, and fell at their feet, grovelling. It was honestly bizarre. I never did this, and always thought, thank goodness I already have a religion. I did try sitting on a pillow and saying om several times. It made me unable to think critically. Was that the intent? It was definitely the effect. I realized if I went on, I would end up a mushroom, so I stopped, and prayed for deliverance from the Buddhists!
At Naropa Institute, the gurus had sexual rights over their students, both male and female. One guru there, who has now passed on from AIDS, a man named Osel Tenzin, was thought to have passed AIDS on to hundreds of students. He ordered males to sleep with him, even if they weren't gay, in order to receive Enlightenment. But nobody minded. AIDS was wisdom itself, or something, just like everything else you got from these gurus, and so it was something that was reframed as a gift. At least the Catholics realize that they had been abused. Buddhists who got this treatment just fell for it, and thought of it as groovy all the way to the cemetery. Peace, baby!
I never fell for it. Of all the religions and faiths on earth, Buddhism is the dumbest, and the cruelest, precisely because it's the nicest. It turns you into a vegetable, and you like it! In the Odyssey this was the land of the lotus-eaters. This was a particularly seductive land for the Beat poets. Many of them ended up there. Ginsberg did, as did Burroughs, and Gary Snyder, and Joanne Kyger, and even Corso ended up there (Corso was never a Buddhist, and laughed a lot about the Buddhists, but he did do a lot of heroin toward the end which is the same thing). Kerouac thought Buddhism was peaches. There is almost not a single Beat poet of the last fifty years who hasn't been involved in Buddhism (or its correlative of getting stoned) to some degree. These people were all individualists. And yet, Buddhism is the worst of all the authoritarian religions. You are supposed to chop off your head and replace it with a smiley-face button.
I thought it was Jonestown, only the song was, "and put on a happy face." I got grouchier and more paranoid around the Buddhists because they turned people dumber than rocks. A similar thing was the marijuana everybody of that ilk seemed to want to smoke which made them "stoned."
Why did everybody want to be dumb as a rock, and stoned, in a city called Boulder?